[row][col span="1/3″]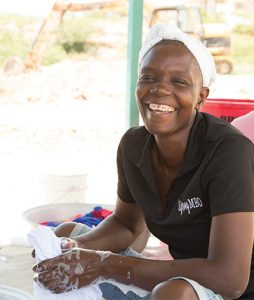 It is a big privilege that God has put this job in my way.Lulune
[/col][col span="2/3″]
100% of the proceeds from your stay go to fund the orphan care ministry in Bercy, Haiti
Lifesong's guest house is so much more than clean, modern hotel-style accommodations. It's providing jobs for locals in Haiti, where there are little to no opportunities for employment.
Before her job at the guest house, Lulune struggled to provide for her four children. She had no education, no job skills, no profession. But since joining our guest house staff, she has a stable income and can send her children to school, giving them opportunities she never had. She now holds the hope that her children won't follow the same path she did, sharing, "I always tell them to take Jesus as their personal Savior and finish their schooling to learn a profession."
100% of the proceeds from your stay go to support Lifesong's orphan care ministry in Bercy, Haiti—helping families stay together through employment opportunities, supporting Lifesong Christian School, and providing student life housing and discipleship for vulnerable children.
[/col][/row]
---