See the complete archive of news, updates, and prayer requests from Lifesong Ukraine here.
Will I wear Jesus' crown, or will I carry His yoke?BogdanLifesong Ukraine Team Leader

BogdanLifesong Ukraine Team Leader
In the last few months of war, Bogdan has been moved by Jesus' words in Matthew 11…
"Come to me, all who labor and are heavy laden, and I will give you rest. Take my yoke upon you, and learn from me, for I am gentle and lowly in heart, and you will find rest for your souls. For my yoke is easy, and my burden is light."
Many families have faced the dilemma: move to safety or stay in high-conflict areas to meet needs?
Many believers, including Bogdan and other Lifesong staff, are choosing to remain in Ukraine to meet the needs of their neighbors.
At the beginning of the invasion, Chernigov was one of the most damaged high-conflict areas in Ukraine. See how our team responded to the needs—
THE WORK CONTINUES
Chernigov
Praise God, Chernigov is much calmer today than a few months ago, with air strikes occurring once every 1-2 weeks targeted primarily at government buildings.
We're thrilled that VBS camps will be starting next week! Each summer, our team in Ukraine coordinates camps for children from orphanages. While it's one of the highlights of our year, it looked unlikely this summer. But after some safety meetings with social services, our team received clearance to host camps in the basement/bomb shelter of our Day Center. Each week, up to 50 kids are served through these camps!
Here, they receive a snack, play games, create crafts, and learn a lesson from the Bible. Kids are encouraged to stay longer and talk through the complex problems they're facing.
Our team also continues its work supporting crisis families, and farm operations continue as usual! Harvest is in full swing.
Kharkiv
While Chernigov is no longer at the center of conflict, Kharkiv faces daily bombings destroying all types of infrastructure and homes.
Our team continues evacuating about 20-30 people from Eastern and Southern Ukraine every 2-3 days.
Even amid the conflict, we're celebrating a recent wedding! Alonya, a 22-year-old orphanage graduate, got married on Saturday. She miraculously escaped enemy-controlled territory just weeks prior to her wedding—a true miracle.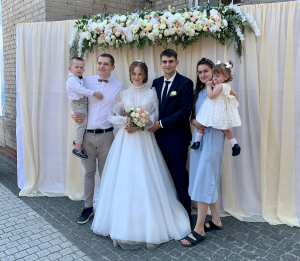 Alyona and her husband, Artyomon, their wedding day.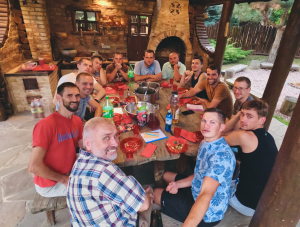 Our Kharkiv leaders meet every Friday for Bible Study.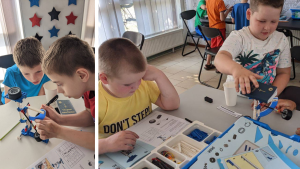 Orphaned and vulnerable children who couldn't evacuate gather at our day center in Kharkiv to learn and have fun. They regularly use LEGO engineering kits to help develop STEM and analytical thinking skills.
Please pray for Ukraine and specifically for:
Spiritually healing from the pain that war brings.
Camps that our team is miraculously able to host in areas of lesser conflict.
Growth and progress at Lifesong Farms Ukraine.
New team members.
Families who are separated.
Our overcrowded day centers to continue to reach more children.
An end to the war and peace in Ukraine.
WILL YOU BRING GOSPEL-CENTERED
CARE TO UKRAINE?
Thanks to TMG Foundation and key partners, all of our fundraising and administrative costs are covered. 100% of your gift will directly support vulnerable children and families in Ukraine.
See the complete archive of news, updates, and prayer requests from Lifesong Ukraine here.
---
Ukraine Prayer Updates
Get these updates and prayer requests delivered to your inbox.