As Jackie scrolled through Facebook one day, she saw a photo that stopped her in her tracks.
At 15 years old, the child in the photo looked like a baby. He wore a little pink shirt and lay in a crib in a Ukrainian orphanage.
Shocked, she sent the photo to her husband, David.
Their four young children were nearby and had many questions about the picture they'd just seen. Their reaction was simple: let's pray for God to send that boy in the pink shirt a family. And so they did.
See how David and Jackie discovered they were the family they were praying for.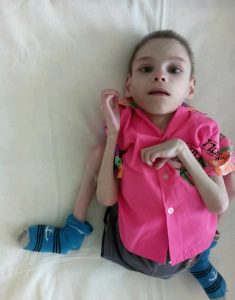 David and Jackie were not new to the orphan care world, having dreamt of adoption when they were first married. After three years of foster care and multiple placements, they took a break while David settled into a new job.
It was during that break they saw the picture of the boy in the pink shirt.
About two weeks after seeing the picture, David and Jackie felt God tugging on their heart to do something more than just pray for a family, though this felt really scary.
They weren't supposed to be the family. They were praying for someone else to be the family. Then came a flood of thoughts.
Can we really do this?
Have we gone crazy?
This would be way too much work, it would be too hard, it would be uncomfortable, we could never afford it.
How often do we stop right there and let fear talk us out of following God's purpose?
The Decision to Move Forward
David and Jackie could think of many reasons they should say no to adoption—but few of them were Biblical. Absolutely, the care for a medically complex child would be difficult. Indeed, it would be hard on their young biological children. True, they had just come out of an incredibly challenging season of foster care with seven children under seven years old.
But that boy still waited, having spent 15 years in a crib in Ukraine. And ultimately none of their objections were enough to convince them to disobey God.
They had seen this boy, and they simply could not say no. They would move forward not in their own strength but in the peace that comes with trusting Jesus.
Called to Jonah
Throughout the process, David had been reading the Bible story of Gideon with their children at bedtime. He actually identified with Gideon at this time.
In the book of Judges, God calls on Gideon to lead the Israelites. Gideon is scared and feels unequipped. God cuts his army of 30,000 men to just 300, saying in Judges 7 that He did so so that Israel would have no doubt that it was God and not their own hand that had saved them.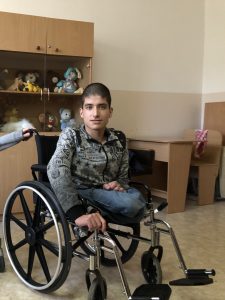 Little did they know that God was doing something similar in their lives, when six weeks into the process of adopting the boy in the pink shirt, they learned about another boy about to turn 16. He was begging to be adopted, knowing that a family must commit to adopting him before his birthday or he'd age out of the orphanage with no one to care for him.
Their first reaction was to pray and advocate for him, helping others see him. But God was working on their hearts and cutting their army down even further to show his glory. They decided to pursue the adoption of this boy as well.
They felt inadequate adding just one teen with disabilities to their family, and now they were being asked to add two.
Surely no one would wonder whether they were doing this by their own strength. It would be very apparent that it was by God's hand alone.
God's Provision Through Lifesong
Faced with discouragement from every angle—from the disapproval of loved ones to warnings from medical professionals to overwhelming costs—they asked God to make it clear that this adoption was His will. And every time, God paved the way and opened doors.
They received overwhelming support in fundraising and grants, including a matching grant through Lifesong for Orphans just before travel time. Fundraising was no longer their priority as they were so close to bringing the boys home, but they had yet to raise the $42,000 they needed for the adoption, not to mention tens of thousands in medical costs they'd soon incur.
They were grateful but skeptical.
Hadn't everyone who wanted to donate already done so?
How would we raise the funds to match Lifesong?
They shared about the matching grant on social media. And overnight, the grant was met and far surpassed! So many who'd been hesitant had been willing to give knowing that their gift would be doubled. The additional funds brought them to their fundraising goal.
YOU CAN MAKE TWICE THE IMPACT ON FAMILIES LIKE THE ASKVIGS.
Traveling to Ukraine
Only four months after deciding to adopt, David flew to Ukraine to meet to boys and officially commit to them.
His first interaction with the boy in the pink shirt was uncomfortable. At 15 years old and 15 pounds, Miles screamed at any human touch.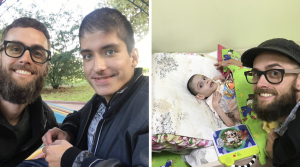 That night, David lay awake in bed all night thinking. How can we do this? He needs too much. He may die on the flight home.
After an agonizing and sleepless night, he went to the orphanage and took this frail child outside—a child who virtually never left his crib.
But David saw something completely different. He was simply a little boy. A boy that wanted to be loved and who thought David was funny. A little boy with life in him. Deep down, this was a child that needed to be loved.
Coming Home
And so they brought home their sons—Miles Gideon and Jonah Dimitri—just six months after beginning the adoption process.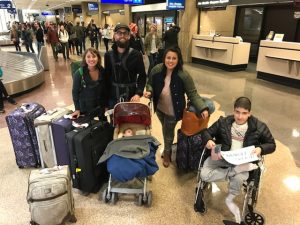 Since being a family, they have faced illness, injury, anger, bitterness, regret, exhaustion, overwhelm, depression and anxiety. And yet there is joy—so much joy. God has given them exactly what they need. Jackie shares,
"Sometimes that strength is only what is necessary for the next hour, sometimes that joy is only enough to get us through the night. But God is so good. There is so much goodness in obeying Him."
God's Incredible Transformation
They have faced extreme challenges, but have experienced so much joy watching God use the love of a family to transform their two boys.
Through the love of a family, God tripled Miles' weight and size in a matter of months. He's now doing wheelies around their home in his own wheelchair, and his laughter is contagious!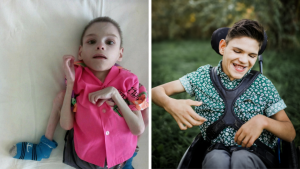 Through the love of a family, God brought Jonah through a nearly fatal bone infection to his high school graduation and his first job. He has also found peace amidst the tremendous loss that comes with adoption.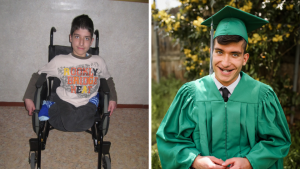 Through the love of a family, God has brought forth a community of support, from doctors to teachers to cousins to members of the local Slavic church. People across the earth have seen the Gospel in the transformation of Miles and Jonah.
And through it all—through all the extremes of very hard and very good—there is beauty in the ordinary. In the way that Miles unrolls the toilet paper every chance he gets or how much Jonah loves sushi and tacos.
A Call to Action
David and Jackie plead that the children we collectively advocate for, pray for, donate to, foster, and adopt be seen. Not only for the seriousness of their circumstances and the vastness of their need, but for the ordinary beauty they hold as image-bearers and human beings.
May they be seen and then acknowledged, prayed for, considered. Not seen and forgotten, shared on Facebook, and then dismissed or excused away.
They encourage everyone to pray and advocate earnestly, to give boldly and uncomfortably, to serve selflessly, and to perhaps pause and truly ask God what He has in store for you.
As author and adoptive father Jason Johnson said, "Our 'no' will be much more difficult on them than our 'yes' will ever be on us."
This Christmas, you can reach orphaned & vulnerable children with Gospel-centered care.
It only takes one caring person to help one child in need. By partnering with Lifesong, you reach orphaned and vulnerable children with Gospel-centered care.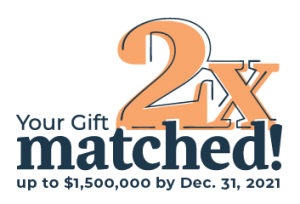 When you give to Lifesong's Where Most Needed Fund by December 31, 2021, your gift is MATCHED up to $1,500,000—making twice the impact on children in need. 100% of your gift directly helps children in need.
Your gift helps fund Christian adoptions, support Gospel-centered ministries globally, and fuel sustainable business development.
Your generous gift this Christmas shows orphaned and vulnerable children they are seen. Together, let's continue reaching children in need with the Gospel!
Yes! I want to send Gospel-centered care where it's needed most!