Some of the most urgent needs are also the most hidden.
Orphaned and vulnerable children are often the first to be cast aside and forgotten. In this past year, the number of children at risk is at an all-time high and protection of children is at an all-time low.
While the world turns a blind eye, we're reminded of our Heavenly Father's concentrated care. God does not ignore. He doesn't overlook or discard. He sees each one. And in His love, He gives us eyes to see and respond to their needs.
David Platt sums it up well—
"Orphans are easier to ignore before you know their names. They are easier to ignore before you've seen their faces… But once you do, everything changes."
Here in the office, our team put together some Stories of Redemption. In it, you'll see children and families around the globe who have been reached by people like you. Each story begins with brokenness… but each ends with God's grace.
Because people like you are seeing and responding to the needs of orphaned and vulnerable children around the world, truly amazing things are happening. Children like Miles and Jonah (page 12) are being welcomed into loving, Christian homes. Young men like Costace (page 5) are being discipled and becoming strong leaders for Christ in their communities. Mothers like Ylana (page 18) are being empowered to support their children.
We urge you to take a look inside and see it for yourself.
Receive your own free copy of Stories of Redemption!
Just let us know where to send it.
This Christmas, you can reach orphaned & vulnerable children with Gospel-centered care.
It only takes one caring person to help one child in need. By partnering with Lifesong, you reach orphaned and vulnerable children with Gospel-centered care.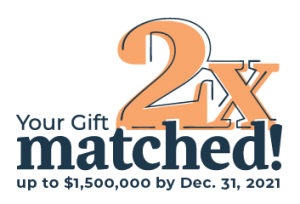 When you give to Lifesong's Where Most Needed Fund by December 31, 2021, your gift is MATCHED up to $1,500,000—making twice the impact on children in need. 100% of your gift directly helps children in need.
Your gift helps fund Christian adoptions, support Gospel-centered ministries globally, and fuel sustainable business development.
Your generous gift this Christmas shows orphaned and vulnerable children they are seen. Together, let's continue reaching children in need with the Gospel!
Yes! I want to send Gospel-centered care where it's needed most!