Imagine having a 20% unemployment rate here in the U.S.
Now imagine having a 20% unemployment rate without any safety net of unemployment insurance, health care, or food security.
What would you feel? Fear, anger, panic?
In Haiti, a 20% unemployment rate would be cause for celebration. Two-thirds of the country's labor force currently has no stable employment or income—
So for men like George Jr., finding stable employment is life-changing. One of our ministry partners in Haiti, Welcome Home Haiti, has three main goals: to build homes for families in need, employ Haitian men and women, and disciple its employees.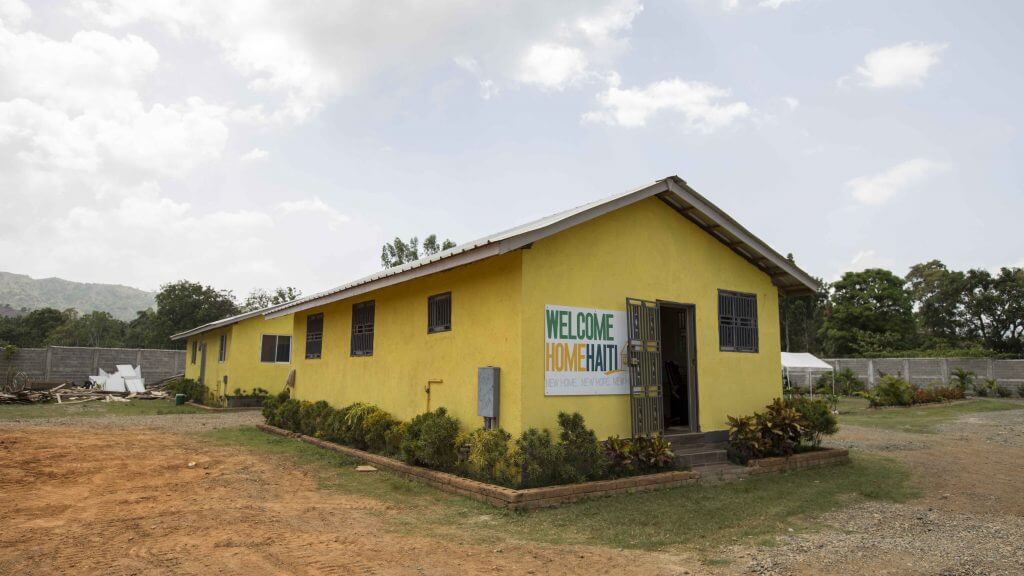 Giving Young Men the Opportunity to Provide
George grew up with two brothers and one sister. His dad was a fisherman, and his mom sold things to earn money.
As a little boy, George stood outside the Pillatre Christian Church to watch the children's choir practice. He knew he wanted to participate someday, so he started attending. And eventually helped lead the choir he admired as a boy.
In George's words—"I was influenced by a young pastor who shared the Gospel with me, and I made the decision to give my life to Christ and get baptized. I still attend the same church and continue to grow in my faith."
As George grew older, he did anything and everything he could to work hard and earn money—even transporting multiple 5-gallon containers of fuel on the back of his moto. In his words—
"I didn't want to continue to live with my parents. I was 25 years old and couldn't even take care of myself."
He started helping out on house builds, and it didn't take the team long to see that he is a hard worker. So they offered him a job.
[row][col span=1/2]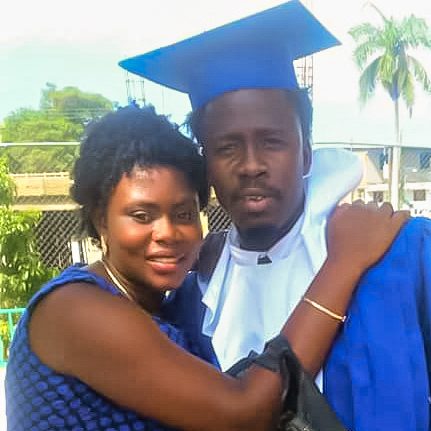 [/col][col span=1/2]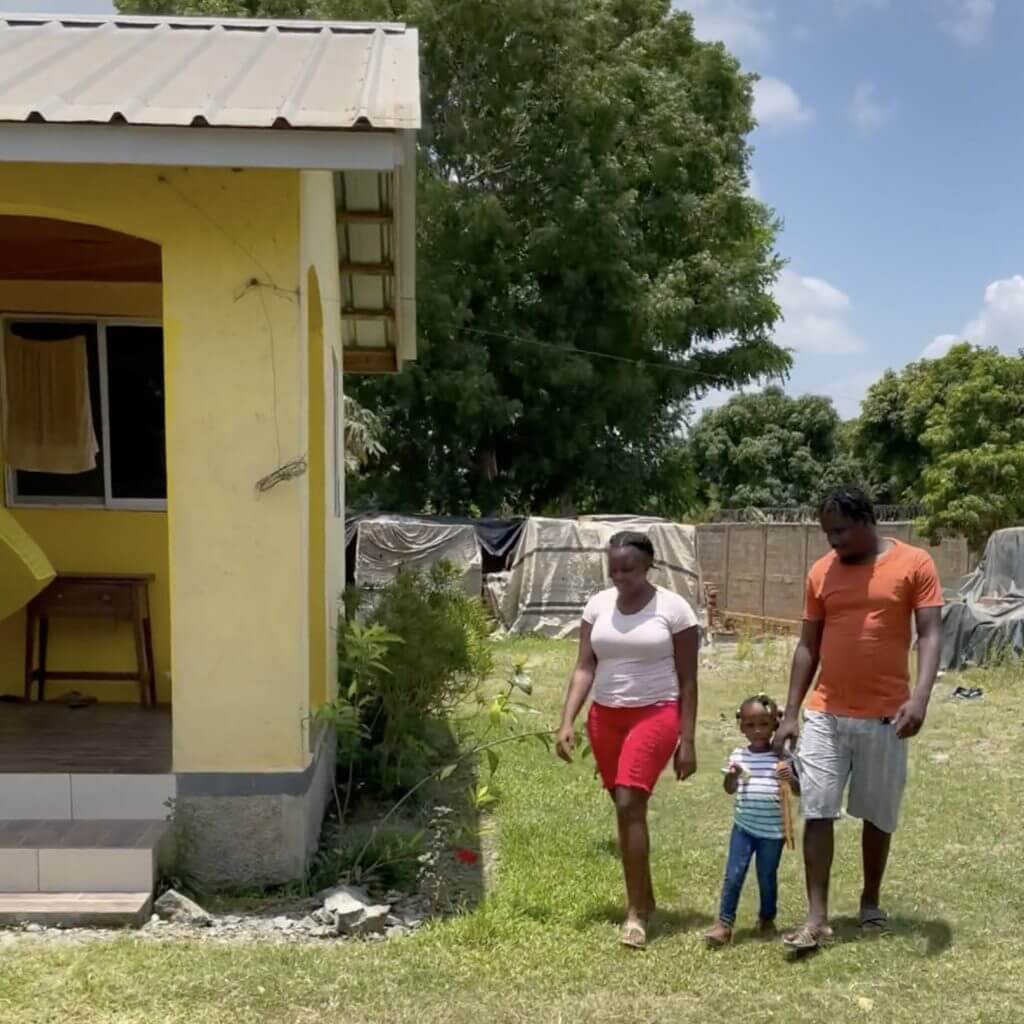 [/col][/row]
Today, George has graduated from university with a civil engineering certificate. He's married with one 3-year-old daughter and another baby on the way. He coordinates house builds, delivers materials, and oversees the roof building crew.
"They invest in me…with that job I can provide for my family. For me, Welcome Home Haiti it's the best for me."
Watch as George shares what this job means to him …
Poverty and the Orphan Cycle
Today the current poverty rate (population living on less than $2 a day) in Haiti is 60%.
Because of this, many men end up leaving their families out of shame related to their inability to provide adequate support.
Additionally, skyrocketing unemployment statistically leads to higher rates of crime and violence which further endangers children and families.
This perfect storm of soaring unemployment, fatherless families, and high crime rates contributes to the 30,000 children who end up in crèches (Haitian orphanages), most of whom have at least one living parent.
So while employing men in Haiti isn't a simple answer or even the only answer, it is a significant and impactful place to start when it comes to impacting families.
If poverty perpetuates the orphan cycle, providing employment helps prevent it.

How Welcome Home Haiti Works
Today in Haiti, while many families live in homes made of sticks and mud, we believe everyone deserves a livable home. So we're partnering with donors, local churches, and Haitian contractors in the following ways:
Local churches nominate Haitian families who are currently living without adequate housing.
A series of interviews are conducted, and a family is selected.
Local masons and carpenters are hired to begin the project.
U.S. churches help fundraise on the family's behalf.
The new home is built and given to the family in need.
Moving into a new home in Haiti is not like moving to a new house in the States. In Haiti, a new house means not sleeping on the ground. It means being safe and secure—you don't get wet when it rains. A new house for a family in Haiti radically changes a family's life.
With each house build, Welcome Home Haiti provides consistent work and stable income to Haitian men who can then provide for their families. The construction of each home impacts 100 Haitian families in some way.
Currently, the team builds three homes a month and hopes to expand to four homes soon. In April, the Gabriel family, key members in a local church received a much-needed new home. This family is incredibly grateful for the blessing they have received and shared how they pray that others can be blessed in the same way as they have.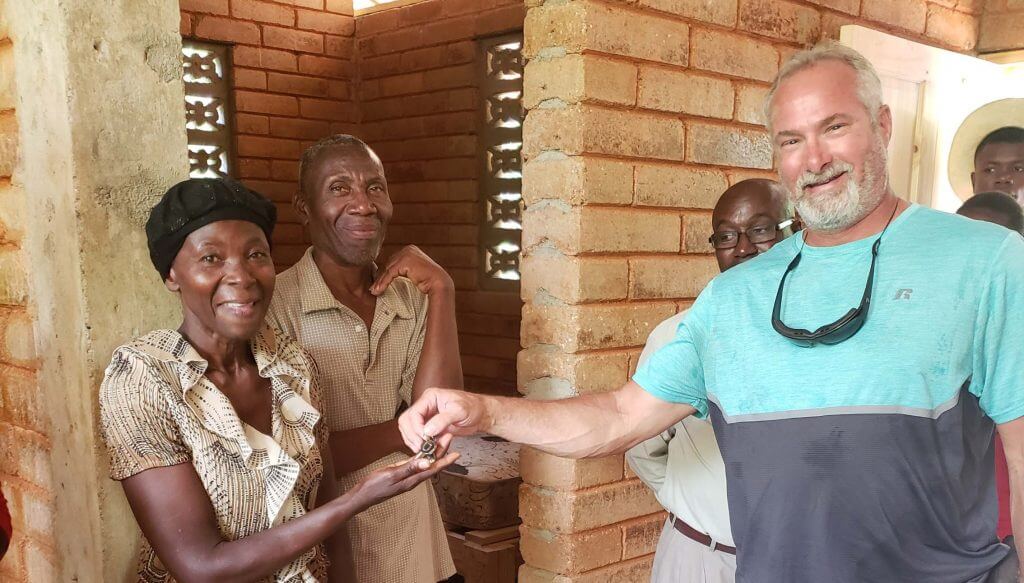 [row][col span=1/2]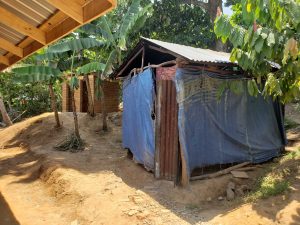 [/col][col span=1/2]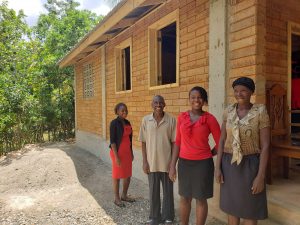 [/col][/row]
Your Place in This Story
The goals are simple: Glorify God and empower healthy families by building homes, providing employment, and raising up Godly men.
In George's words, "Welcome Home Haiti is so important for me … with this job, I can take care of my family."
They employ men like George to build new homes—working toward one common goal: to preserve families. And in addition to providing employment, they mentor men—like George—to continue growing as godly husbands, fathers, church leaders, employees, and brothers in Christ.
Little on this earth is more impactful than God-fearing men who lead their families well.
And by the grace of God, these families are still doing well.
NEW JOBS, NEW HOMES, NEW HOPE.