The holiday season is here!
And while this year may not feel normal, some things will be the same.
From online shopping sessions, to school projects and performances, to spending time with family, these days will be filled with to-do lists and schedules.
But tucked in the midst of this busy season is a special, global day of giving, and we want you to join us.
Tuesday, December 1, is #GivingTuesday, and we're on a mission to help more families adopt and more orphans receive Christ-centered care.
Your gift helps couples like Martin and Emily!
While visiting India in 2015, Martin and Emily became burdened by what they saw. Along with extreme poverty, prejudice, and persecution, they learned that India has more orphans than any other country in the world.
From that point, God nudged their hearts toward adoption. But as the journey progressed, their expenses grew.
Martin shared, "We didn't have tens of thousands of dollars lying around to write a check for adoption expenses. We had to completely rely on the Lord to provide."
Martin and Emily were prepared to exhaust their savings and take out a loan to make ends meet. But then they discovered Lifesong through another adoptive family. They applied for Lifesong adoption financial assistance and were blown away when they received a $3,500 Lifesong matching grant. Their fundraising took off, and by God's grace, they brought home their first daughter, Anjaly, in 2017.
Two years later, they adopted a second daughter, Priyanka, with help from another Lifesong matching grant.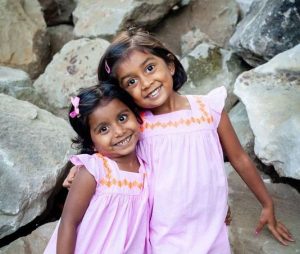 Combined, their adoptions totaled nearly $80,000. But with support from family, friends, and people like you, every expense was completely covered, allowing them to bring their daughters home.
This year, your gift will be TRIPLE matched!
Orphaned and vulnerable kids around the world need someone like you to care. Some of these kids live on the streets, others are victims of trafficking or extreme poverty, and many still don't know how much God loves them. Your gift helps change that.
Our goal this #GivingTuesday is $100,000.
$100,000 has the power to:
help 30 families bring children home with adoption matching grants.
provide holistic, Christ-centered care, education, and discipleship for 278 children for a year.
But this #GivingTuesday is particularly special. Key partners have stepped forward to TRIPLE all gifts up to $100,000.
$25 becomes $75. $100 becomes $300. $1000 becomes $3000.
So helping 30 families like Martin and Emily's family becomes 90 families helped with adoption financial support!
As always, our administrative costs are already covered, so 100% of your received donation will go directly to help children in need.