Nearly one year ago, after we supported the adoption of her daughter through a matching grant, we received a letter from a mom named Kendall. It's filled with gratitude and encouragement.
Her letter also displays some key benefits of applying for adoption grants.
Maybe you're just setting out on your fundraising journey and wondering if grants are worth it. Or maybe you're simply considering adoption and are intimidated by the costs and fees. Either way, here's a plug for applying for adoption grants.
First, let's debunk a myth.
Kendall shared, "As we moved through our adoption process, our friends recommended that we apply for grants. However, many people told us that it was very unlikely we would be approved for a grant because there are so many people who apply, there are so many people in need, etc…"
Some families see grants as more trouble than they're worth. Yes, grants involve completing an application and (like every stage of adoption) requires some paperwork. And of course, there are factors that impact whether or not a family will receive an adoption grant (such as income, family structure, etc.)
But, as Kendall would find out, it's always worth trying!
Of the families that apply to Lifesong, 93% cannot afford adoption without financial assistance. In the first 6 months of the year, we were able to award over $1.1 million in the form of direct grants, matching grants, interest-free loans, and fundraising support to 277 families!
Now, onto the reasons why to apply.
1. You'll experience the Body of Christ in new ways.
"We are so grateful for the Lord's provision and His use of Lifesong and Karis Adoption Fund to bless our family and help us bring our daughter home."
Since the Church is the solution to orphans' needs, it's often believers and local churches that provide adoption grants. Ideally, it should be God's people who work together to bring children into families—some to adopt, some to care, and some to give.
Kendall's family received a grant from the Karis Adoption Fund—a Christian adoption fund facilitated by Lifesong at zero-cost to the fund.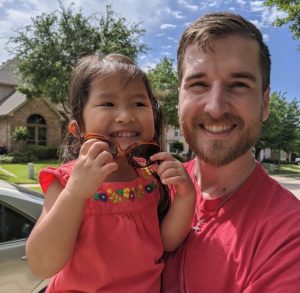 2. You'll have the opportunity to see God provide for immense needs.
Kendall shares, "After prayer and research, we applied to Lifesong. We trusted that the Lord was good and in control regardless of the outcome of our application.
We hit a point where we were feeling discouraged because we had not yet raised the funds we needed for our adoption. But that week, we were informed that Lifesong through Karis Adoption Fund had approved us for a matching grant! We were overjoyed and saw very clearly how the Lord had orchestrated all of it.
Shortly after setting up our myStory—a free fundraising platform from Lifesong—many donations began rolling in. We reached our match in an unexpectedly short amount of time."
Grants, especially matching grants, can multiply quickly. Adoption matching grants match gifts dollar-for-dollar until the adopting family reaches the established goal. Matching grants often motivate friends and family to give since it doubles their impact.
Most of the families who receive a matching grant from us raise nearly double their original goal and exceed what they initially set out to raise for their adoption fund!
3. You'll be able to focus on what really matters.
"We are elated to inform you that our daughter is now home with us. We are so joyful to have our family together at last! Elise has been doing great since we returned home from Bangkok. She loves being held by her Mommy and she has lots of fun playing with her Daddy and brother Asher. She and Asher have such fun together and are really getting along great.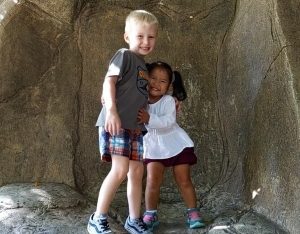 She enjoys taking walks near our house, dressing up, and collecting things in her purse. Since returning home, we have also started doing family dances after dinner. She likes dancing to lots of different music and she has fun dancing with her brother Asher. One of her favorite activities is riding her bike—she asks for it every day! She also loves playing in the water and we have visited multiple playgrounds and a zoo with her since returning home."
When you have someone walking beside you to help carry the financial weight of adoption, you can focus on what really matters—bringing your child home. With help from grants, you're less likely to go into heavy debt or to pursue expensive loans to afford adoption fees.
Meaning once your child is in your arms, instead of sorting out finances, you can focus on your child's wellbeing.
What could your story be? How could an adoption grant help you obey God's call to bring a child into your family?
ARE YOU CONVINCED?
Lifesong helps adopting families not only through matching grants, but also through interest-free loans, fundraising support, and myStory—our FREE fundraising platform.
Just let us know where to send your application.