Many of the stories we share conclude with a child coming home. But as every adoptive family knows, "gotcha day" is just the beginning.
Bonding as a new family is serious work. If you're an adoptive or foster parent in the trenches, here's some encouragement that God can work miracles in your child's life.
In one mom's words,
"We just wanted to say thank you again for the grant we received for our daughter's adoption. On April 15 she will have been out of the orphanage and in our arms for one year.
Here's an update on how she is doing.
When she first came home, our daughter was understandably angry and full of fear. Additionally, she couldn't sleep in her room without her sister in there, and for a season had a tent made over her bed to feel safe.
We are so excited to share with you that our daughter accepted Jesus in her heart! Suddenly, we noticed fear had completely, miraculously left her. She no longer needs the tent over her bed, can sleep in her room without her sister, and even sleeps with the door closed. It is so completely Jesus' doing.
We know this is because of the Holy Spirit working in her. This could not have happened so quickly!
This past October she asked to be baptized.
We hadn't even brought up the subject of baptism because of the language barrier. But she learned about it in her Sunday School class. We asked her why she wanted to be baptized to make sure that she understood, and her response was that she wanted Jesus to change her. She wanted to let everyone know she asked Jesus in her heart. And she wanted the Heavens to open and for Jesus to say, "You are my daughter."
Needless to say, she understood baptism, and we set it up immediately for that Sunday.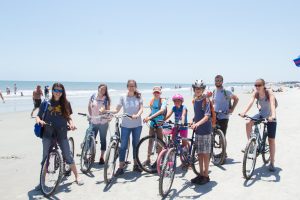 She loves to homeschool and is so smart. Every night, Daddy reads her a story before bed. Then we pray with her. Many nights she chooses to pray, too.
She loves going to her class at church and memorizing scripture each week. She loves mountain biking, swimming, hiking, and building things outside. Some evenings we have to call her in from playing outside because it's dark. Her fear is gone!
Our friends and family are astounded at how far Dani has come in just under one year. We are as well.
The transformation in her is night and day in every area—spiritually, physically, and emotionally.
Thank you so much for helping to fund our adoption. You have played an amazing role in changing one little 10-year-old girl's life. We cannot thank you enough!"
You Can Help Families Say YES to Adoption
When you support adoption, you're not only helping bring a child home. You're giving them a future. 
When you give to support adoption by June 30, 2020, your gift is MATCHED up to $100,000! Meaning you'll help twice as many kids come into loving Christian families. 100% of your gift goes directly toward the need, helping orphans become sons & daughters.