International Women's Day is this week.
But I don't expect you to know that since you spend your mornings rushing around feeding your kids and getting them ready for school. (Whoever invented the phrase "herding cats" never herded children.) Who has time for International Women's Day?
After a drive across town—in which you answer a dozen questions on deep subjects—you send your kids into the clutches of their familiar school routine, breathing out a prayer for their safety.
You smell faintly of peanut butter or tears, depending on the day (or hour!), but you're not worried about that. Instead, you're thinking about your sensitive child who wears his global development delays on his sleeve, and you hope the other kids in his life treat him kindly today.
Weary mom, you're tired, and I understand.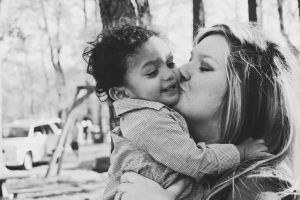 International Women's Day.
The day is supposed to be a global day for celebrating the social, economic, cultural, and political achievements of women. But if you're like me, you're just thrilled you had a few minutes to brush your teeth (with your own toothbrush!)
Like most women, you have moments of joy and grief, of panic and accomplishment—sometimes all in the same afternoon. But your greatest achievements in this season of life probably won't make the front pages of any newspapers. No, you've learned to celebrate first words and first steps (or whole sentences—containing subjects AND verbs!) from a child whose peers met the milestones long ago.
The most important title after your name? Mom.
And to those who love and trust you, it's a very worthy title.
Sure, you're in the thick of it right now. And you're not always certain you've made the right decisions. How could you have possibly known about pediatric night terrors or food hoarding when you agreed to all of this? But you don't have time to think about that. For now, you have laundry to finish and dinner to consider. And the kids will be home soon … wanting to eat something with peanut butter.
On these days—between the loneliness and the fear and the exhaustion (oh, the exhaustion!)—it can feel like this season will last forever. But I assure you, it won't.
Mom to mom, here's the deal.
Your child may never make a Varsity sports team, but the first time he brings home an "I Was Caught!" certificate for good behavior, you'll celebrate like he's an MVP.
And when he tells you he picked a ring from the prize box (one of those gaudy, plastic rings with the blinking diamond) and then hands it to you with love in his eyes, you'll find a way to force it on your finger. Then you'll tell him it's the most beautiful ring you've ever been given … because you know how long it took to earn his trust and affection.
And when you hear him pray one day and thank God that you are his mommy? You'll know those hours (decades?) of gentle prodding and careful parenting paid off.
Remember where he started. Remember where you started.
God gives us children not just so we can teach them, but so that He can teach us. It's a hard journey. But if we're honest, it's pretty remarkable.
But he said to me, "My grace is sufficient for you, for my power is made perfect in weakness." Therefore I will boast all the more gladly of my weaknesses, so that the power of Christ may rest upon me (2 Corinthians 12:9).
Weary mom, this week is International Women's Day, and I celebrate you.
Find more helpful resources to encourage you as you parent.