When we take a leap of faith, fear is never far off.
Even Lifesong's creation story has notes of fear. Our founder, Gary Ringger, had no idea what was in store when God called him to use his business for His glory, not Gary's.
But when called beyond his limits, God graciously taught Gary how to have courage in Him. This ultimately brought about an organization (Lifesong!) that would go on to help tens of thousands of children in need!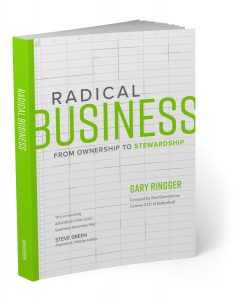 The following 4 lessons about fear come from his book, Radical Business: From Ownership to Stewardship. 
In Gary's words—
1. God is a personal and caring Father.
Our Heavenly Father has specific and exciting plans for us.
"For I know the plans I have for you." declares the Lord, "plans to prosper you and not to harm you, plans to give you a hope and a future." (Jeremiah 29:11)
We miss the best in life when we do our own thing instead of following His plan. His plan can be a mystery and sometimes hard to discern, but He wants a relationship and He wants us spending time with Him. If we seek Him and give it time, God will give us clarity and direction.
"We can make our plans, but the Lord determines our steps." (Proverbs 16:9)
2. Fear is not from God.
1 John 4:18 says, "Perfect love casts out fear…"
With every major decision, there is a certain amount of angst. This doesn't mean you shouldn't use some healthy restraint and caution. But if you are praying and asking God for direction, He will not use fear as a motivator.
3. God wants us to be bold.
Proverbs 26:13 says, "The lazy person claims, 'There's a lion on the road! Yes I'm sure there's a lion out there.'"
I remember a time when I was talking with a Christian brother, sharing my business concerns and fears. Even though we didn't know each other well, I'll always remember that he said, "Keep taking risks." We need to be prudent, but we also need to remember that we have His Spirit working in us.
"I can do all things through Christ who strengthens me." (Philippians 4:13)
4. God may lead us in a new direction.
I understand why so many people live life in safe mode and never consider changing their career… I always thought I would stay involved in our family feed business for the rest of my life. Then one day, Dad asked me to buy out his half [of the businesss].
I realized I didn't have the ability to do that and continue growing [my personal business] at the same time. His question forced me to consider deeply where I wanted to focus my time… Sometimes God calls us to stay; sometimes He calls us to go. We must be open and submitted to His will and His plan for our lives. He knows best!