Thank you for giving and praying for orphaned and vulnerable kids around the world. Here's an exciting update from Lifesong Ukraine—
Lifesong Ukraine National Adoption Club
By God's mercy, the adoption movement is growing and our LS National Adoption Club keeps expanding. Many new families are joining our ministry efforts to empty State-run institutions. There are two main goals we pursue:
Assist in adoption placement and family training.
Help crisis families to break the cycle of hopelessness and stay together—family preservation.
Right now, 250-plus kids have been placed into loving, Christian homes through our ministry assistance. Since our last club meeting, four new families joined the club. And we hope in the near future more orphans would become a part of these great families.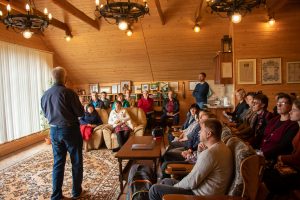 Developing Aspects of the Ministry
CCP (Constant Christian Presence)
Our CCP program is one of our biggest and most organized ministries in terms of the number of kids we interact with. Right now, we offer three basic classes—Legos, chess, and crafts—through which we build Christ-centered relationships with kids in orphanages.
This ministry lays the foundation for the kids' future relationship with God. It also opens the doors for transition programs, advanced Bible studies with teens, and better involvement of local churches into the ministry.
Olya, a 14-year-old we serve at one of the orphanages, shared—
I like to be at LS lessons, they give me so much knowledge. My favorite classes are Lego and chess. I've never thought that through these activities I can learn so much! We learn a lot about engineering, architecture, and God!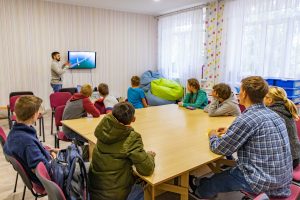 Transition Homes
The transition homes are a safe place for orphan grads to grow from orphan-minded kids into mature Christian boys and girls. Kids from broken families enter the program and find love, mentorship, and a Christian model of family life! God changes young hearts through this program, and we thank Him and everyone who participates in this area of ministry.
Dima, a team member in Kharkiv, shared—
"It's an honor to be part of kids' daily lives, helping them to know more about Heavenly Father. All our steps are done to bring kids closer to God, so the greatest joy for me is to see how those damaged young souls are being restored by God!"
Lifesong Among Ukraine's Leaders
In mid-November, our team leader at Lifesong Ukraine received a call from the Presidential Office with an invitation to attend a special orphan care event. Only one couple from each of Ukraine's 27 states was invited.
Government ministers, Parliament members, and religious leaders were there. The Presidential Office and the Ukraine government are showing a great amount of interest in fixing the orphan crisis in Ukraine. They are very supportive of the shift from State-run institution care to family-oriented care.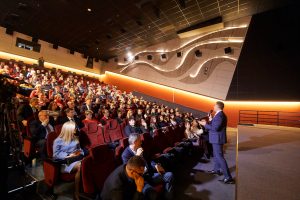 Every day, we dedicate ourselves more to this ministry God has called us into! We give thanks to the Lord for all His blessings and opportunities we have to bring kids closer to Him.
We are thankful for your support! It builds God's Kingdom on earth. It changes many lives. Will you pray with us? Specifically, pray for…
God to send us faithful people who are ready to work hard in order to change the lives of orphans and vulnerable kids.
discipline and spiritual growth in the lives of all our team members.
a new Day Center in Chernihiv, which will allow us to work with children from crisis families.
children who are close to accepting Jesus as their Savior.
---
IMPACT A VULNERABLE CHILD IN UKRAINE.