153 million orphans.
The orphan crisis is just that: a crisis. The need is overwhelming. But the fight for justice and mercy is not in vain. We can each do something.
God has called us all to care for orphans and those who cannot care for themselves. And thankfully, many of you have responded.
People like you help support 11,522 orphaned and vulnerable children in 13 countries and have helped over 8,000 children come home through adoption!
In this year's Stories of Redemption Gift Catalog, you'll read about some of the many lives you've touched. Because we live in a fallen world, each story begins with brokenness… but each ends with God's grace.
Here's one of these stories.
Meet *Esther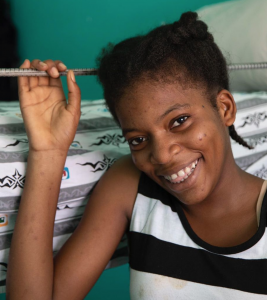 Before Esther came to Lifesong School in Haiti, her life was filled with uncertainty.
As her family's sole provider, Esther's mother relied on finding work at the local market. Sometimes she was able to earn money and provide food for her four children. But other times, their family went to bed hungry.
This harsh reality is all too common in Haiti. Over two-thirds of the labor force don't have formal jobs. Consequently, nearly thirty percent of the population is food insecure.
When Everything Changed
Since attending Lifesong School and moving into the Family Life Residences, Esther's life is dramatically different. She is given three meals a day, a secure place to live, and a quality education. She shared—
"My house parents love me well. Everything they do for their biological sons or daughters, they do the same for me and the other kids living in their house."
Esther's house parents and teachers share the Gospel with her every day. As a result, she accepted Jesus as her savior! With a quality education and steady discipleship, Esther's future is bright.
"After graduating, I would like to be a nurse… and a lot of other things," she laughed.
All of this is possible because people like you care about girls like Esther.
Through Your Gifts
God is using you to reach the children we serve. Each child's story is unique just like our own story of redemption. But as you'll read in the catalog, our Heavenly Father knows just how to reach each of these children in need.
Girls like Esther.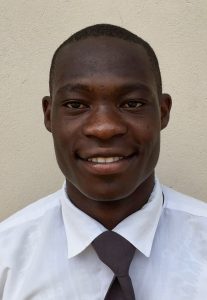 Young men like Emmanuel in Zambia. His family couldn't afford his school supplies, so he dropped out, choosing instead to smoke, drink, and fight. In 2008, he was invited to attend school at Lifesong where he heard the Gospel and accepted Jesus as his savior.
Once determined to be a solider, Emmanuel now dreams of using business as a platform to share Christ. In his words—
"I don't want to be an American businessman or a Zambian businessman, but a Christian businessman."
Today, he's learning business principles and advanced farming methods on the farm. With these skills, he can break free from the cycle of poverty.
.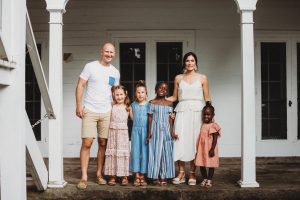 Families like the Krals. 
Jeremy and Rachel stepped out in faith when God called them to adopt two girls from Liberia. Like many families who consider adoption, raising the funds to bring them home seemed impossible. But with help from a matching grant they received through their church's Lifesong-facilitated adoption fund, God provided just enough. In Jeremy's words—
"Saying yes to things that aren't natural isn't easy. It's the hardest yes ever. But God is waiting for us as Christians to follow Jesus' lead."
With help from the Lifesong matching grant—made possible by people like you—the Krals will celebrate Christmas together for the first time.
Whether rescuing street children in Tanzania, preventing trafficking in Thailand, or bringing a child to their family in the U.S., your gift allows the world's most vulnerable children to be loved as sons & daughters.
Many More Still Need to Be Reached
Here in the holiday season, would you give a gift so that—together—we can reach more orphaned and vulnerable children with the Gospel, basic provision, education, and long-term support? Would you give a gift so that more children can be adopted into Christian families?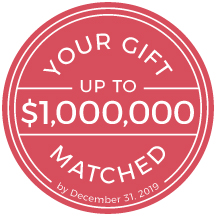 Give a year-end gift today and join where God is working, bringing joy & purpose to where it's needed the most.
Our administrative costs are already covered, so 100% of your received donation goes to help children in need.
Between now and December 31, 2019, your gift given through www.lifesong.org/gifts will be matched up to $1,000,000.
YES! Match my gift to bring joy & purpose to orphans today.
*Name changed for protection