On Tuesday, Sept. 24, a crowd of Lifesong advocates and eight of Indy's top chefs gathered at the beautiful Biltwell Event Center in Indianapolis for Chef's Table­—a unique tasting event hosted by and benefitting Lifesong for Orphans.
Nearly 200 guests filled the Biltwell to taste 16 gourmet dishes, hear testimonies from compelling speakers, and enjoy the historic venue—all while benefitting orphans and vulnerable children around the world.
And—praise God—the event raised over $100,000 to help orphans become sons and daughters!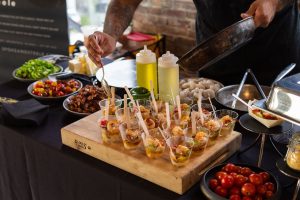 Culinary Competition
Throughout the evening, participating chefs competed for guests' votes. The competition was stiff, but two chefs rose above the rest. Erin Gillum of Spoke & Steele received the award for the Most Original Dish and Aziz Mountassar of the Capital Grille took home two awards. One for the Best Dessert and another for being the Crowd Favorite.
Additional participating chefs include Thales Martinelli of Fogo de Chão, Claudia Valderrama of Hoaglin Catering, Allen Smith of Meridian Restaurant & Bar, Taki Sawi of Santorini Greek Kitchen, Timothy Moran of Seasons 52, and Will Smith of Sullivan's Steakhouse.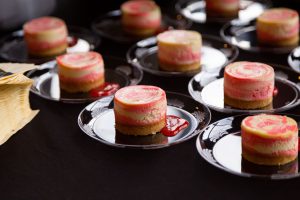 The delicious local flavors were accompanied by international testimonials. Haiti Board Member Mark Erdmann shared about God's work in Haiti. James and Lyndsi Deemer, Lifesong matching grant recipients, shared their journey of adopting a son from Korea. And Paul McBride, a college student originally from Zambia, shared his life story resulting in adoption.
The evening concluded with an invitation to guests to help continue the work by giving financially. Over $100,000 was raised for Lifesong for Orphans to go on caring for the world's most vulnerable.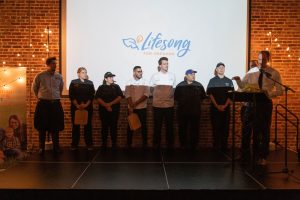 Special thanks to…
the following sponsors. Because of their generosity, 100% of all gifts given at Chef's Table go directly to helping children in need:
Remodel Health; the Flower Boys; Hannah News Service; Heinold & Feller Tire & Lawn Equipment; Macon Construction; Oliver & Cline LLP; Ronald Blue Trust; and Sea7/Ponds Bros. of Indiana. Gobena Coffee also donated coffee for the evening's guests.
HELP EVEN MORE ORPHANS BECOME SONS & DAUGHTERS.