1-2-3 Sponsor is here! We can't wait to see how God moves in hearts to provide for His children.
From September 23 to October 2, our goal is to add 123 new sponsorships to help vulnerable children around the world reach their God-given potential. During these 10 days, we'll be sharing the faces and names of children who need the love of Christ in tangible ways–specifically, through education.
Would you sponsor a child or spread the word about sponsorship opportunities to reach the goal?
Odds are, in the past month, most of the kids you know started another year of school. But according to this study, for every 5 of those children, 1 child in the world will not attend school. That means 263 million children, adolescents, and youth worldwide are not in school.
While you can't help all 263 million of these children, but you can help one. And for that one child, you can change the world.
Sponsoring a child allows them to receive a quality education that provides a strong foundation for their future. Additionally, they will receive ongoing care in the form of food, clothing, medical care, and shelter–as well as Christian training and discipleship. All of this and more is possible with a monthly sponsorship starting at $34 a month.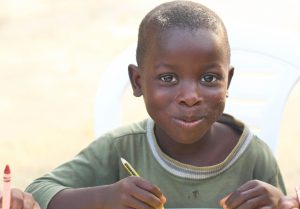 Sponsorship and Education
A 2013 study found that students who are sponsored are 27% to 40% more likely to finish secondary school and 50% to 80% more likely to complete a university education.
These statistics are more than numbers scribbled in a research journal. We're seeing real advantages offered to sponsored children. Just this year…
In Ethiopia, 100% of our eighth-graders passed their national exams for the fourth year in a row.
In Haiti, 100% of ninth-graders passed their national exams.
In Tanzania, the results from the recent national exams put our primary school at 150 out of 10,090 schools–putting our students in the top 1% of the country.
In Zambia, our school is in the top 6% out of 300 schools in our region.
These kids are discovering their God-given skills and abilities–something they may have never done if it weren't for generous sponsors believing God has big plans for their lives.
"I am the only one in my family who is able to go to school. If it weren't for Suubi Christian school & my sponsor, I would have to work instead of being able to learn."

—Blessy, 15-year-old sponsored child in Uganda
Join us!
We don't just want to reach more orphans and vulnerable kids. We want to reach them more deeply. This means providing them with the skills and knowledge necessary to excel and become future leaders in their communities. Your sponsorship is vital to this!
Visit our website to see profiles of children in need of sponsors, or our FAQ page to learn more. Feel free to contact sponsorship@lifesong.org with any additional questions!
JOIN THE 1-2-3 SPONSOR CAMPAIGN AND CHANGE A CHILD'S LIFE.