According to the Adoption Network, 60 to 70 percent of domestic adoptions today are open.
Open adoptions allow biological parents to participate in choosing their child's adoptive parents and gives them the opportunity to stay in contact with their child post-adoption. The relationship between biological and adoptive parents can differ greatly depending on the family and the arrangement, and for some families, this relationship can be one of the biggest blessings.
One of our families recently shared their experience–
---
We became a "waiting family" in June of 2018.
Our profile was shown to a number of birth parents, but not chosen. We even met a birth mother who ultimately decided a different family should parent her child. But at the end of 2018, the Lord connected our agency with a mom who was weighing the options for her pregnancy.
The agency ministered to her, presented her with alternatives, and started a loving process of walking with her through her pregnancy. In January of 2019, this mother chose our family to parent her baby girl who would be born in May.
We could not believe the news when our agency called!
Because we were matched with this mother several months ahead of time, we had the opportunity to meet with her birth mom several times. We got to hear her hopes and dreams for lucy, as well as for her own life.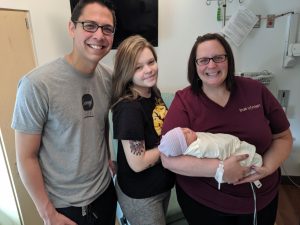 Welcoming Lucy
The Lord went before us throughout this whole experience as we navigated this new relationship.
During Lucy's birth, our relationship deepened as we spent time with her birth mom in the hospital. My wife experienced being in the room during her birth, and as a family, we had multiple chances to encourage and love on her birth mom during Lucy's NICU stay.
During Lucy's NICU stay, my wife and I stayed in Lucy's room while her birth mother recovered in the maternity wing. When Lucy's birth mother came to see her, we spent nearly three hours listening to her share about her family, her life, and her desires for her future. We are so thankful for this sweet time with her.
And we are so excited to see how this relationship continues to develop in our lives and in Lucy's life.
What a blessing Lifesong was to our adoption journey. The cost of adoption is so high, but you were our partner alongside us. The matching grant and support received from other friends drastically reduced the financial hurdle of our adoption. It encouraged our hearts so much during our adoption journey.
Walking with birth mothers through their journey can be as important and impactful as raising a child via adoption. Thank you for loving Lucy's birth mom and honoring her decision to make an adoption plan. We are excited to see what God continues to do in your family.
---
Pursuing Adoption?
Lifesong partners with thousands of families to help bring children like Lucy home. Through fundraising tools, matching grants, and interest-free loans, we seek to bridge the gap in adoption fundraising.