Adoption is a beautiful picture of the Gospel.
We were lost and God found us. We were orphaned and He gave us a home. Adopting families often realize these parallels in the most profound ways.
Courtney and Trey, a family of ours who received a matching grant, are certainly no exception. Here is their story in Courtney's words . . .
---
Lifesong came at just the right time.
We had just found out our placing agency went bankrupt, and we were going to have to pay a very large transfer fee to a new agency. Lifeline recommended we reach out to you. You came alongside us and encouraged us to not grow weary, to endure the hard, and to trust that God already had a plan in place.
The financial aspect was a huge weight when we stepped into adoption. We thought it would be a 2 year process and $30,000 initially. If we would have seen it all at the beginning, I don't know if we would have begun. Even though the wait was almost triple as long and the funds needed were over double that amount, God provided in every single chapter. You were a part of that team who confirmed to us that we were walking in God's will. Thank you for cheering us on and praying our boy home!
Chosen Before Time
There are countless "God moments" throughout our 5 ½ year adoption journey! Mikiyas has almost been home for a year. God has done immeasurably more that we could have imagined. Mikiyas' name means Yahweh is my God–a reminder of God's faithfulness from the first day we received our referral, October 26, 2016. Our God is mighty. Our God is good. He knew before time that Mikiyas would be ours.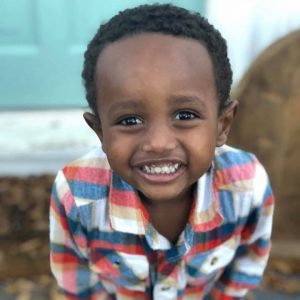 Just the other night when I tucked Mikiyas into bed, he looked up at me and said, "Mama, I was lost and you found me. You picked me!"
God has used Mikiyas journey to bless so many people! We had many many mountains along the way, but we declared God as the Great Mountain Mover because over and over we watched Him do the impossible. We know without a doubt that God picked Mikiyas to be ours. He has used Mikiyas to continually remind us of His adoptive love for us. We too were lost and he found us. We were orphaned and He picked us. What a Savior!
Lifesong's Part in Their Story
Lifesong was a tremendous blessing to us! You provided a matching grant for our family when we needed it the most and reached out to us when we felt discouraged. You prayed for our family and our son by name and believed when we might have been struggling to believe. Lifesong is a blessing to so many families. We loved the opportunity to share our story through your site and for others to see God providing! Thank you for taking care of the orphans in the unique way that you do.
For Zion's sake, I will not keep silent… You will be called Sought Out.

– Isaiah 62:1, 12
Our son, Mikiyas Zion, is home because of God's incredible faithfulness and goodness that He showed us through you and so many others. Thank you for choosing to be a voice for the fatherless!
---
ARE ADOPTION FINANCES STANDING IN YOUR WAY?
We've helped over 9,000 children just like Olivia come home through matching grants, interest-free loans, and fundraising tools.