Awareness leads to action. Discovery leads to doing.
Once Ronald and Tonya became aware of China's one-child policy, they felt moved to someday take action and adopt a little girl from China. Years later, when they discovered The Bamboo Project (an effort of Bethany Christian Services to find families specifically for children in China with Down syndrome) they felt God leading them to do something: adopt a child with Down syndrome.
Read their full testimony of bringing their daughter home . . .
---
It had been our desire for years to one day be able to adopt a little girl from China.
Even before having biological children, our hearts ached at the thought of so many little girls being forsaken in China because of the one-child policy. Over the years, there have been many circumstances that have taken priority and pushed adoption to the side, but we never lost sight of the call to one day adopt.
In 2015, we moved forward in the formal application and approval process. It was a long process, mainly due to waiting until the funds were available to pay for the next step and patiently waiting on God's timing. Once our home study was completed in December 2016, we began applying for grants. In the spring, we held a garage sale. All the proceeds went toward the next step of our adoption. We did what we could and then waited for God to do what we could not.
It was so overwhelming, humbling, and faith building to see God's provision for our every need in this whole process.
He provided through our church family, several grants (such as the matching grant through Lifesong), and our local body of Christ. His continued faithfulness brought us peace, joy, and confirmation at just the right times. Through all of this, we saw our hearts strengthened as well as our children's faith and their love for adoption grow. It became more than an abstract idea or commandment.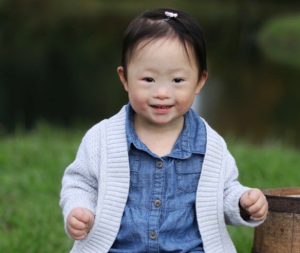 Called to Down Syndrome
In November 2017, we scheduled to meet with our case worker to update our home study. We had been reading about The Bamboo Project and stories of families who brought home children. Through this, God laid it on our hearts to change our special needs focus to include little girls with Down syndrome. This was the turning point for us in our adoption.
The timing was perfect. Within 2 weeks we received and then accepted a referral for our little girl. We moved as quickly as we could to be able to travel in March 2018. She came home on April 5, 2018.
As a couple, we've been married for 19 years and have 5 children. We can't imagine life without our new daughter, Lydia. Our family is so thankful to God who provides for our every need, both physically and spiritually. Because of His great mercy and grace extended to us through Christ Jesus, we are able to share this love with Lydia. We continue to see how He is working in and through us to make us more dependent, faithful, and obedient. Our entire family rejoices in finally bringing her home to be a part of our family. And we pray that one day she'll be a part of our Heavenly family.
---
Is funding standing in the way of your adoption?
For most families, funding is the number one barrier to adoption. But here at Lifesong, we beleive that money should simply be a detail in the adoption process–not the deciding factor. Through adoption financial assistance, we help bridge the gap in fundraising.