We believe God intended all children to be in a safe and loving Christian family.
But sometimes, that intention isn't always obvious. Some families struggle to stay together. Adoptions can take years or fall through altogether. Things don't always happen as we see fit. But God is always faithful to keep His promises to His children. Today we share the testimony of a family's second adoption. And like many, it didn't happen on their timetable.
---
For months, I had prayed, cried, and begged God to give us another baby.
I couldn't understand why we had been matched twice with birth mothers, only to have them both fall through a few short days later.  It didn't make sense to me why we hadn't been chosen again. I even let my pride get the best of me and thought to myself, "Look how great our profile is! Our pictures are beautiful, our birth mother letter is so well-written, and Ryan is adorable. Surely a birth mother will immediately choose us once she looks over our profile."
The Waiting Piece
I called our case worker several times over the course of that 8-month period to get her feedback about why we hadn't been matched. The thing is: no one can answer that. Many times, no one really knows why one family is chosen over another or why matches fall through.
Adoption is one big journey into the unknown. And all you can do it wait … and pray … and wait some more.
Eight months seemed like an immensely long time to wait. My birthday kept creeping closer and closer, and I started having so many feelings of self-doubt. I speak openly about my faith, but in the hardest times, I start to doubt God's plan for my life. I hate to admit that, and I despise the fact that I doubt Him even more.
The Matching Piece
And then, on a normal Monday just like any other mundane Monday, we received the call.  The call. Only it was so different than the call we received when we were matched with Ryan. We didn't have weeks to prepare. He was scheduled to be delivered that very evening via C-Section. In Houston.
The next few hours were a blur! Josh and I left work early and went to my parents so they could hang out with Ryan. We bought plane tickets, found a dog-sitter, tied up loose ends at work, packed, cleaned (we would have a BABY with us the next time we would be back in our home!), and even created a small registry for family and friends who were already asking how they could help. We boarded the plane the following morning at 6 a.m. with our things, a car seat, and an empty diaper bag. The plane landed in Houston, and we didn't have one thing for the baby—Target to the rescue!
I could go into more detail and tell you all about our sweet boy's creation and journey to us, but I think that is a story he should tell if and when he's ready.
Every adoption story is so personal. And as much beauty as there is, there is also pain and brokenness.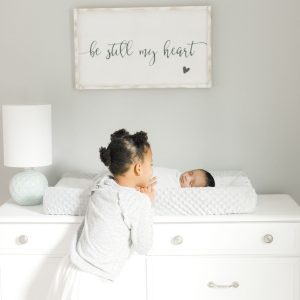 The Woodson Piece
I will leave it at this: 18 hours after he was born, he was in our arms. We went back and forth between the hotel and hospital for 3 days until he was finally released to us. We stayed in Houston for 10 days waiting for all the paperwork, which allowed us to cross state lines, to be processed. I have to admit, everything I had heard about baby #2 is true! At 5 days old, he trudged through the Houston Children's Museum, was a restaurant pro., and had taken a bottle in nearly every public place we visited. So much for living in that germ-free bubble!
Now, our sweet Woodson is 3 months old.  He loves to smile and giggle and is the BIGGEST snuggler I know. Ryan is so over the moon to be a big sister, and he is 100% smitten with her. He saves his best smiles for her. Our world has once again been turned upside down. We run on little sleep, but I wouldn't have it any other way.  My heart officially feels full, because we have added the final piece to our family puzzle. It feels complete.
The Lifesong Piece
We were completely blown away by the support we received from Lifesong. From the prayers, encouragement, and incredible communication to the simple things–like the ease of being able to check our ledger and see our account–everything went so well from the very beginning.
We appreciate ALL of you, what you're doing, and your heart for adoption. We are so thankful for folks like you who are passionate about helping others build families.
– Josh & Lauren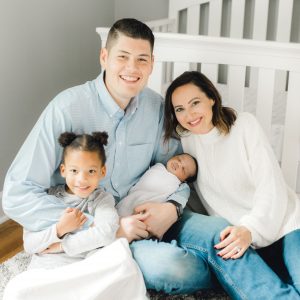 ---
CONSIDERING ADOPTION?
We help families overcome financial barriers through adoption matching grants and fundraising tools.