God works in mysterious ways to accomplish His good purposes. Watch the inspiring story of how He ultimately used a failing food business to reach thousands of orphans around the world. And YOU are part of this story.
An interview with Gary Ringger
Gary Ringger—Founder and President of Lifesong for Orphans—recently wrote his first book, Radical Business.
UPDATE: Enter to win 1 of 10 copies here! Contest ends this Friday, January 25, at 11:59pm.
We had the chance to sit down and ask him what his journey has taught him, what his hopes include for the future of Lifesong, and why he decided to write a book.
Here's what he shared—
.
Q: As a young entrepreneur, you wanted to live the American dream, get rich, and retire early. Have you ever regretted your change of direction in life (from get-rich-and-retire-at-40 to Kingdom work)?
A: Never. Life has been so much more purposeful and rich than I could have ever dreamed. I'm so thankful He broke me and changed my direction.
From the book: God is a personal and caring Father. Our Heavenly Father has specific plans for us. We miss the best in life when we do our own thing instead of following His plan. His plan can be a mystery and sometimes hard to discern, but He wants relationship and He wants us spending time with Him. If we seek Him out and give it time, God will give us clarity and direction. "We can make our plans, but the Lord determines our steps" (Proverbs 16:9).
.
Q: If you could go back to Gary Ringger circa. 1986 when he was losing sleep and worrying about the future of a failing business endeavor, what would you tell him?
A: This struggle will be one of the biggest blessings in your life. Romans 8:28 assures us that all things work together for good. So hang in there. Don't take yourself so seriously. Enjoy the journey.
From the book: Don't rush things. Let God lead you. He knows all things and He has a plan. Through the years, I've learned to listen and wait to act until I feel His urgency and leading, confirmed with peace.
.
Q: What is your dream for the future of Lifesong? What do you hope it looks like in 20 years?
A: I have a spreadsheet for that! I love to dream, but always with an open hand—knowing that we plan, but God directs our steps. Jesus said the fields are white with harvest and we should pray for more laborers. I would never have been involved in this "field" if God had not broken me. My dad always said there is no limit to how much you can accomplish if you don't care who gets the credit.
At this time, we have around 20 ministry initiatives we are supporting with services. I would love to see that grow to 70, but again, that is an open-handed dream and God directs our steps.
Q: Who is your book, Radical Business, written for?[row][col span="3/5″]
A: The book is focused on encouraging men and women to think differently about how God can use their skill set in new and radical ways. I hope it will be an inspiration for young men and women who are just starting out—to focus on the principle of being a steward vs. an owner. We're all successful if we are stewarding what God wants us to be about. Life is much more exciting when we are on the back of the tandem bike with HIM driving!
[/col][col span="2/5″]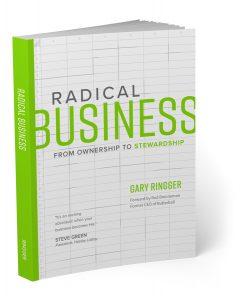 [/col][/row]
Thank you, Gary. Those of us privileged to know and work with you are grateful for God's leading in your life. 
Transform your story from ownership to stewardship.