Through their journey as parents, James and Lyndsi have walked through deep valleys and set their feet on high mountains. In James' words–
We have always tried to plan out what we thought our lives would look like.
We thought we knew, but God had other ideas for us–things we never imagined. Lyndsi and I grew up very close to each other, and we were high school sweethearts. We got married at a young age and had a desire for a big family.
At first, things did not go as we had hoped. It took almost three years before getting pregnant with our first child, Luke. Due to extreme complications, Luke passed away one day after being born. Our next two children came very quickly. Their pregnancies were difficult, but we feel so blessed to have two beautiful girls Daisy (5) and Emma (3).
Step by Step
Growing up, one of Lyndsi's closest friends was adopted. That, along with a strong nurturing instinct, led us toward our decision to adopt internationally. In January 2017 we contacted our agency and started the process to adopt from South Korea. They had a need for people to adopt boys.
After the dossier was sent to Korea, they said the wait was about 4 to 6 months to be matched with a child. We anxiously waited for the phone call, and were happily surprised when we were matched after only two months! We were overjoyed to find out that we were matched with a beautiful five-month-old boy named Seungjun. From that phone call, we had two weeks to decide to accept the referral, but we knew within minutes that he was our son. We couldn't wait to start the paperwork to bring him home.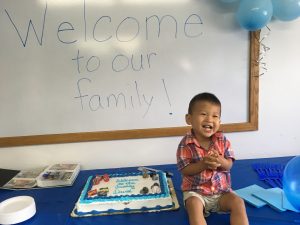 The Faithful Provider
I can tell you that God has been such a faithful provider for our needs since we began, and we knew financially he would be too. The overall cost was around $50,000. We had some of our own money put aside, but we also knew we would have to look at others ways to raise money. When we heard from Lifesong that we were awarded a matching grant, we felt so blessed.
We are so grateful for the donors at Lifesong and their financial contribution to our adoption.
David Seungjun came home June 2018, and he is such a happy and loving child. We cannot imagine life without him.
Through people like you, Lifesong has helped bring over 7,500 children into loving families like James and Lyndsi's. When you give to support adoption, you're not just adding dollars to an account–you're helping make homecomings possible.

---
Bring more children home this Christmas.