.
Gary Ringger is an orphan advocate and the President of Lifesong for Orphans. He writes –
I'd like to invite you to be part of something special.
Today, over 7,000 children are living in loving, Christian families who received critical adoption funding. Plus, generous people like you make it possible for 8,362 children in 13 countries to receive holistic, Christ-centered daily care.
God is working in the lives of these children, and it's incredible! In 2019, I pray even more children will know they are loved.
Here's why this invitation matters—
Every child who is reached because of your gift to Lifesong will be taught Gospel Truth and will learn the love of Jesus.
Orphans and vulnerable children around the world need someone like you to care. Some of these children live on the streets, and many of them are victims of trafficking or extreme poverty. Very few will ever hear the Gospel or learn how much God loves them … unless they are reached.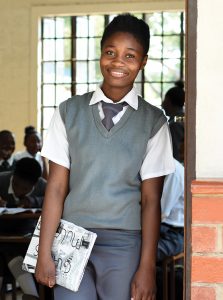 Gladys (right)—once horribly mistreated—is now rescued and thriving at Lifesong School in Zambia.
Yaroslav was shown the Gospel and answered God's call through our ministry and camps in Ukraine. And here in the U.S., we continue to see Christian families like the DeJongs bring children home with the help of adoption grants. Many families will celebrate Christmas together this year for the first time.
.
These stories—and hundreds like them—would not be possible without your help.
When you give, your money goes directly to caring for orphans, 100%.
Right now, generous givers are matching all gifts up to $1,000,000 by December 31. Which means, together, we have the opportunity to give holistic, Gospel-centered care to twice as many children. Would you take advantage of this unique opportunity to double the impact of your gift?
As always, our administrative costs are covered, so you can be confident that 100% of your received gift will directly help children in need.
Thank you for joining where God is working. Your gift of any amount will bring hope and joy to the orphaned and the vulnerable this holiday season.
---
Help orphans become sons & daughters.