We love telling you how God has moved mountains to bring children into loving families. Over the past year, we've gotten to share some pretty amazing adoption journeys–one of those being Chris and Katie's (you might remember their original story). Katie recently caught us up to speed on their family. In her words–
We brought our daughter home a little over two years ago.
Now two and a half years old, she has been such a joy to us, our family, and our friends. We initially planned to adopt an older child instead of a baby. But both my husband and I have been surprised by how much we enjoyed the baby and toddler stages. We are so thankful that we have gotten to experience so many of her "firsts." How we have loved seeing the world through her eyes.
While we still have moments of grief over losing the first child we were matched with, we now can't imagine life without our daughter. We thank God every day that we get to be her parents while at the same time continuing to pray for the son that we loved so much.
Unlikely Friends
The biggest impact adoption has had on our lives is in the area of friendship. The nine months we spent in country allowed us to get to know several other families. They were also adopting and also experiencing setbacks.
Though we all come from very different backgrounds in terms of faith and lifestyles,  we now call them our "Nicaragua family."
We probably wouldn't have become close friends had we met in our normal lives back home.
Though we live in three different states, we make it a point to get together several times a year. We love that our daughter will have these friendships with other adopted children as she grows up. And we are so thankful for the bonds that were formed during such an intense experience in our lives. Their friendship has been one of the most unexpected and wonderful outcomes of our adoption experience.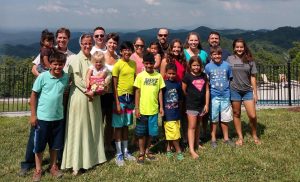 Deeper Roots
In addition to the friendships we made in Nicaragua, we have seen our friendships with two other families in our town grow and deepen. The two families started inviting Chris over for dinner once a week while I was still in Nicaragua. Even now, the tradition has continued. Our Wednesday night dinners (known as Frienner: Friend Dinner) have become one of the best parts of our week. Our daughter has benefited so much from being around the other kids.
This past weekend, we all stayed in a cabin together in a state park. Over dinner, the conversation turned to the loss of our first adoption and all the ways that God has worked through that experience.
Looking around the table, we were reminded of how they helped us.
They assisted with fundraising before the adoption, encouraged us during the times of frustration and confusion, and met us at the airport when we came home. They supported us in ways big and small as we have adjusted to life back at home.
Through adoption, God has not only given us a daughter; he has expanded our family and enriched our lives through the friendships grown from it.
Chris and Katie, thank you so much for letting us get a glimpse of your life two years post-adoption. Friends are easily one of God's biggest blessings in our lives, and it's wonderful to see Him using them to enrich both yours and your daughter's lives. Our continued prayers are with your family as He draws you closer to Himself.
---
CONSIDERING ADOPTION?