The holidays are here, and the best parts are just getting started.
From early morning shopping, to parties and gift exchanges, to spending time with those we love, these days will be filled with to-do lists and schedules.
But tucked in the midst of this busy season is a special, global day of giving.
This Tuesday, November 27, is #GivingTuesday, and we're on a mission to help more families adopt and more children become sons and daughters. Would you join us?
Help Families Like the DeJongs
Mark and Kate felt called to adopt, but they had one major concern–"How in the world will we raise the funds?"
In the midst of that unknown, in April of 2012, they felt strongly that God was leading their family to begin the application process. As they started moving forward, they knew they were called to adopt two children from Haiti.
Unfortunately, the process was complicated. What Mark and Kate thought was going to be a two-year journey turned into a four-and-a-half year journey of waiting, hoping, and praying. In Kate's words–
Our wait was filled with many hard moments, times of uncertainty, deep aching in our longing for our children, and anxiety about the financial strain. Yet we knew God's calling was clear and that He would make it happen.
An Answered Prayer
They didn't know where the funding would come from, but Mark and Kate trusted God to provide for their adoption.
When Mark and Kate applied for and received a Lifesong matching grant, it was more than just money; it was God's provision. And with that provision, in 2017 they welcomed home their children–Joel and Jaelle. In Kate's words–
We are truly grateful for the many ways you've blessed our family and are bringing so many other families together.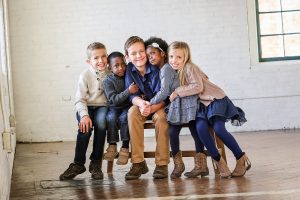 Make This Tuesday Count
Thanks to generous donations from people like you, the Dejongs will spend their second year with their children, Joel and Jaelle.
But others still wait.
Thousands of children will experience the holidays without a family, and thousands of families willing to adopt will go through this season waiting for their child.
You can change that. And you can start this #GivingTuesday!
Generous givers have agreed to match gifts up to $1,000,000, so your impact will go twice as far. And as always, every penny of your received donation will go directly to help children in need.
---