We often get asked…
"How can my church reach orphans?"
"How can we start an orphan care ministry?"
"What does it look like to care for the fatherless?"

The answers can be so simple they make us think there must be more to it. We are each on a journey trying to pursue the purpose God has shown us. He has uniquely blessed us with talents and skills. And while we each may be at different mile markers if we follow where God leads He'll use us in mighty ways.
No matter where we are, God wants to use us. And as that happens, He may call you to engage your church–your brothers and sisters in Christ–to reach orphans as well.
Here are 6 ways you can get started:
1. Pray
The book of James says, "If any of you lacks wisdom, you should ask God." Plain and simple–Pray. Ask God for wisdom for your church family as you reach out to orphans. This might be locally or globally or both. It's going to look different for everyone and every church.
But, James goes on to say that God, "gives generously to all without finding fault," and that when we ask, "it will be given to you." He wants to know your prayers and hear your heart. He will meet you right where you are. While this verse is about accepting Christ, it also applies to caring for orphans. Prayer is the first and only place to start.
2. Seek God through Scripture
As you pray and continue in prayer, seek God by studying the Word. Proverbs teaches us to,
Trust in the Lord with all your heart,
And lean not on your own understanding;
In all your ways acknowledge Him,
And He shall direct your paths.
Proverbs 3:5&6
If we try to move ahead without seeking the Lord, we will get stuck, lost, frustrated, and we might even give up. This is especially true in caring for the fatherless. The road is tough, and we can't go it alone.  We need His direction to guide us.
3. Learn About the Fatherless in Your Community
It's often said if you desire to reach people with the Gospel, start with the people next door. Sometimes we have grand ideas of being the next George Müller or Mother Teresa. We may not say it out loud, but it's there. We each want our impact to be significant. But these amazing heroes started with loving the people in their community and within their nations–the people next door.
In the U.S., "orphans" are children in foster care.  Their parents were unable or unfit to care for them due to the wrong choices they have made. As Christians, we can make an impact. Take classes to become a foster parent or become a CASA volunteer, or serve your local agency through service projects. That simple step of obedience you take may be the catalyst your church family needs to reach out to the fatherless in your community.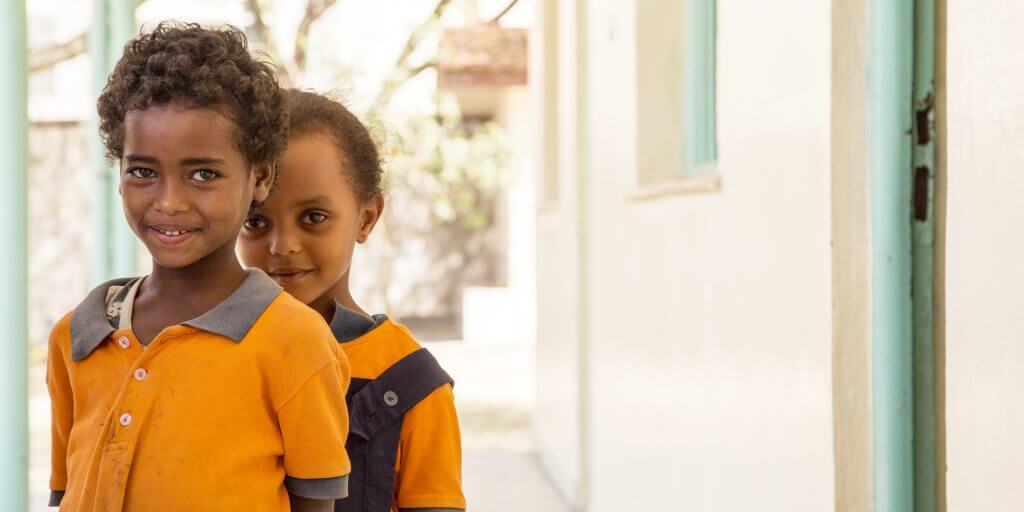 4. Sponsor a Child
This one seems obvious, right? And even a little old-fashioned. But trust us, sponsoring a child can be one of the most impactful ways to make a difference in a child's life. If done correctly, sponsorship is more than sending in a monthly check–or just having it withdrawn directly from your account. Sponsorship is a relationship grown through letters and prayer. For a child to receive a letter from someone across the world is a big deal. To know someone took the time to write to them, to know someone thinks and cares about them, and to know that someone prays for them, this tells the child they matter. Someone loves them.
So as a church where do you start? Consider hosting a sponsorship event or table, where you ask your church to sponsor a certain number of kids. Or maybe you do this through your children's ministry. We can help get you started.
5. Adopt an Orphanage
What? We aren't suggesting you bring home hundreds of kids. Adopting an orphanage is not about bricks and mortar, but about changing the lives of precious souls within their walls. Andy Stanley famously said, "Do for one what you wish you could do for everyone."  Partner with one of our orphan care ministries to "adopt" some or all of the kids they serve and go deeper than just sending money.
Adopting an orphanage means committing to pray for the children, taking a mission trip, writing letters, and yes, supporting them financially. Your church can "adopt" these kids and have a lasting impact on their lives and futures.
6. Start an Adoption Fund
Perhaps global orphan care isn't in your church's budget or even on their radar. That's ok. Lifesong began after helping one adoptive family bring their child home by relieving the financial barrier of the high cost of adoption. Our heart is to see children become part of loving Christian families. Through an Adoption Fund, we can provide churches with tangible tools and resources to help families adopt. We'll manage your fund account, process applications, and handle all the paperwork, with no extra administrative cost to the church. And we do it all for free. And as always, 100% of the funds you raise go directly to the families you choose to support.
Adoption can be a lonely journey. Families that have the support of their church know they have brothers and sisters who will walk the road with them.
Next Steps
Whether you're just starting your journey or maybe you're ready for the next leg, we are here to help. We believe "the Church" is the solution to orphans' needs.
---
Here are other ways your church can partner with us to reach orphans.