Students in Haiti enjoy some downtime together.
The United Nations has declared June 12 to be World Day Against Child Labour. Who's affected? Why does it matter? What should we do?
Who's affected?
An estimated 152 million children around the world aged 5 to 14 work for a living–meaning they don't go to school, they work long hours on brutal work sites, they display symptoms associated with trauma, and they suffer the effects of malnutrition. The reason?–in many, if not most, cases, steep poverty in the family often requires these children to help generate income so that the family can survive. Of the 152 million child laborers, an estimated 73 million of them are working in dangerous situations that regularly threaten their health or life.
The good news?–The United Nations has set a goal of eliminating child labor by 2025.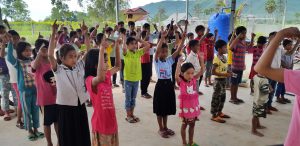 Why does it matter?
Here at Lifesong, we believe God calls us to care for orphans and those who cannot care for themselves.
We also believe God intended all children to be in a safe and loving Christian family. Every child is a gift and is made in the image of God and should be treated and protected as such.

What should we do?
Here are 3 practical ways to support the end of child labour–
Become aware and spread awareness. Whenever there are conflicts or disasters in a country or region, there are children who are at risk of child labour. Children who are refugees and migrants are especially vulnerable and can become victims of trafficking or child slavery.
Sponsor a child. Gospel-centered child sponsorship is a great opportunity to change a child's life, but it also has great potential to keep a family together and spare them the desperation that leads to child labour. When you sponsor a child, you help that child and those who care for him overcome poverty–which can save current and future generations the heartache of family disruption and other devastating loss. Learn more.
Support fellow organizations. Here at Lifesong we know we can't do it all. We are thankful for ministries and organizations who are doing the hard work of bringing a good and necessary end to child labour. Here are 2 places to start–
International Justice Mission (IJM): They seek to protect the poor from violence throughout the developing world. Specifically, their global team includes hundreds of lawyers, investigators, social workers, community activists, and other professionals whose goal is to rescue thousands, protect millions, and prove that justice for the poor is possible.
Christian Alliance for Orphans (CAFO): They have united 190+ respected organizations and over 650 church members to inspire and equip Christians to live out the Bible's call to care for orphans and vulnerable children. Each of the 190+ organizations reaches orphans and vulnerable children in unique ways. See the list here.
Finally, some motivation…
The time to act is now. Every minute we wait, thousands of children are being robbed of their childhood, a promising future and sometimes their lives.
–Kaign Christy, former Field Operations Director, IJM
Sponsorship can make an eternal difference in the life of a child and family.
For an orphan overseas, monthly sponsorship can be the difference between life and death, bondage or freedom. And–for $34 or $68 monthly–YOU have the power to make this happen. So we invite YOU to show the love of Christ to one child today. Start a sponsorship and change a life.